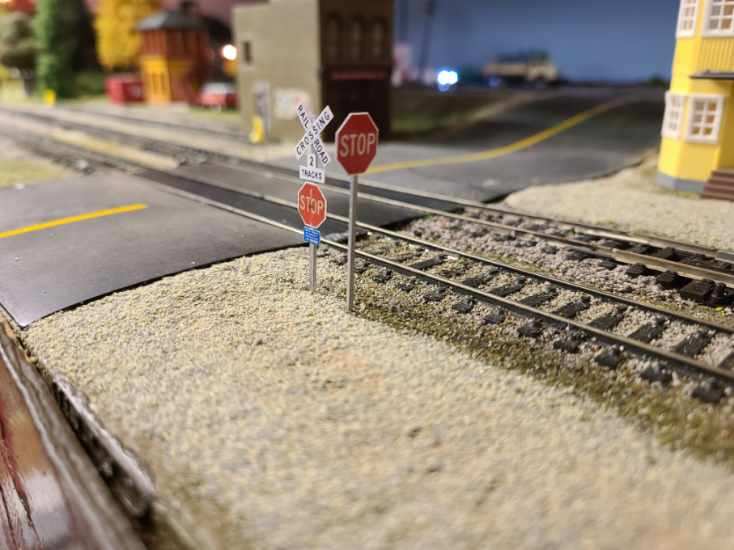 The difference is in the details.
🔹 No thick plastic signs.
🔹 Glossy fronts to make the signs glare.
🔹 Back painted silver to simulate aluminum.
🔹 New & old bolts with rust for added detail.
🔹 Ten pole colors to fit your needs.


We have weathered signs also.

⛈️ Why do the weathering, when the printer can!


All items in part number order
The new standerd in model scale signs!
Testimonials
After seeing this video, placed an order for a few signs. Quite happy with them. Second order to finish up some road signage in the town. Quite nice!! Thanks for sharing this product.

railhea67_83
I've been using Small Scall innovative, but the signs you have are awesome!! I looked at their website and I'm hooked! Thank you!!! I just dropped $50

thomasstate7121
First off, you have the best signs of anybody...keep them coming!

Timothy P
I received the signs I ordered today. They are truly beautiful. Thank you so much. I'll be ordering more soon.

Kevin Alma, Ark.
I received my package yesterday. Very impressive! I'm very excited to install the signs on the layout. They're going to look fantastic! Thank you very much for the extra signs.

Michael L.
Thank you so much for the quick turn around and awesome quality on the signs you made for me.  I got them this weekend and couldn't wait to get them installed.  They really set the local for my Vine Street branch addition of my Delaware and Hudson layout.

Justin J
Videos on ScaleSigns.com signs!
If you have any question feel free to call or email.

Call us at
517.993.1012
Monday - Friday
9:30am to 5:00pm EST
Email
sales@scalesigns.com